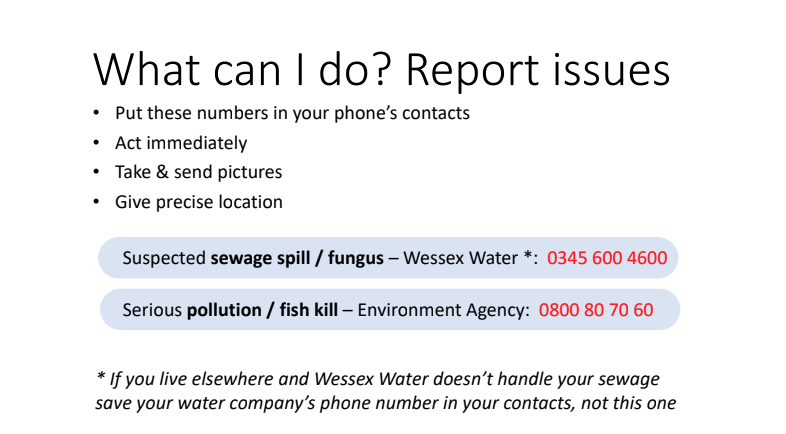 Explore the range of 12 educational resources and learn about remarkable rivers across the curriculum. Click on the 'download resources' button to find out more about each activity.
https://bristolavonriverstrust.org/education-resources/
Reporting pollution
Contact Wessex Water
https://www.wessexwater.co.uk/your-wastewater/reporting-pollutions
If you spot signs of pollution, call us at once on 0345 600 4 600 and give us the location and description.
Floating Harbour and Docks
https://www.bristol.gov.uk/residents/pests-pollution-noise-and-food/water-quality-and-pollution
To report oil pollution in Bristol Harbour call 0117 903 1484. Officer hours:
26 March to 28 October: 8:30am to 4:30pm
29 October to 25 March: 10am to 3pm
Rivers in General

Contact the Environment Agency on 0800 807 060, if you want to report pollution from oil, sewerage or hazardous waste in a river.
guide to identifying pollution in our Streams and Rivers
Is your river fit to play in?

This map shows where the sewerage network discharged treated sewage and overflows of untreated sewage and storm water into rivers in England & Wales in 2021. Avoid entering the water immediately downstream of these overflows, especially after it has been raining. Use the search box or zoom on the map to find your location.
https://experience.arcgis.com/experience/e834e261b53740eba2fe6736e37bbc7b/
Local water quality Reports
Docks and Harbour https://www.bristol.gov.uk/residents/pests-pollution-noise-and-food/water-quality-and-pollution
Avon At Eastwood Farm / Conham Riverside https://www.conhambathing.co.uk/sewage-data
The Rivers Trust
Sewage is discharged into rivers across the UK and Ireland on a daily basis. This isn't an isolated problem; it occurs up and down the country, affecting urban city centre rivers and pristine chalk streams alike. Our Sewage Map will help you find out where this happens.
https://theriverstrust.org/key-issues/sewage-in-rivers?
Nearly EIGHT raw sewage spills a day across Bristol as top 10 worst-hit locations revealed
Sewage spilled into Bristol's waterways for more than 5,000 hours last year
https://www.bristolworld.com/recommended/bristol-sewage-waterways-4111941
What is being done to improve water quality
Storm overflows automatically operate during heavy rainstorms to protect properties from flooding and prevent sewage from overflowing into streets and homes.
Wessex water W is correct in saying we all have a part to play in sorting out this problem. We all need to make sure that only the three Ps go down the loo – pee, paper and poo. But the really big issue is separating rainwater from foul water, holding back the clean stuff so that sewers don't become overloaded.
https://corporate.wessexwater.co.uk/our-purpose/rivers-and-coastal-waters/storm-overflows
Storm Overflow Improvement Map
https://wessexwater.maps.arcgis.com/apps/dashboards/de7d66343e304703935403cf1beb398c
GBT on Social Media