As part of our ongoing campaign to save Brislington Meadows from development we are asking local residents and folk who have memories of the meadows to share their memories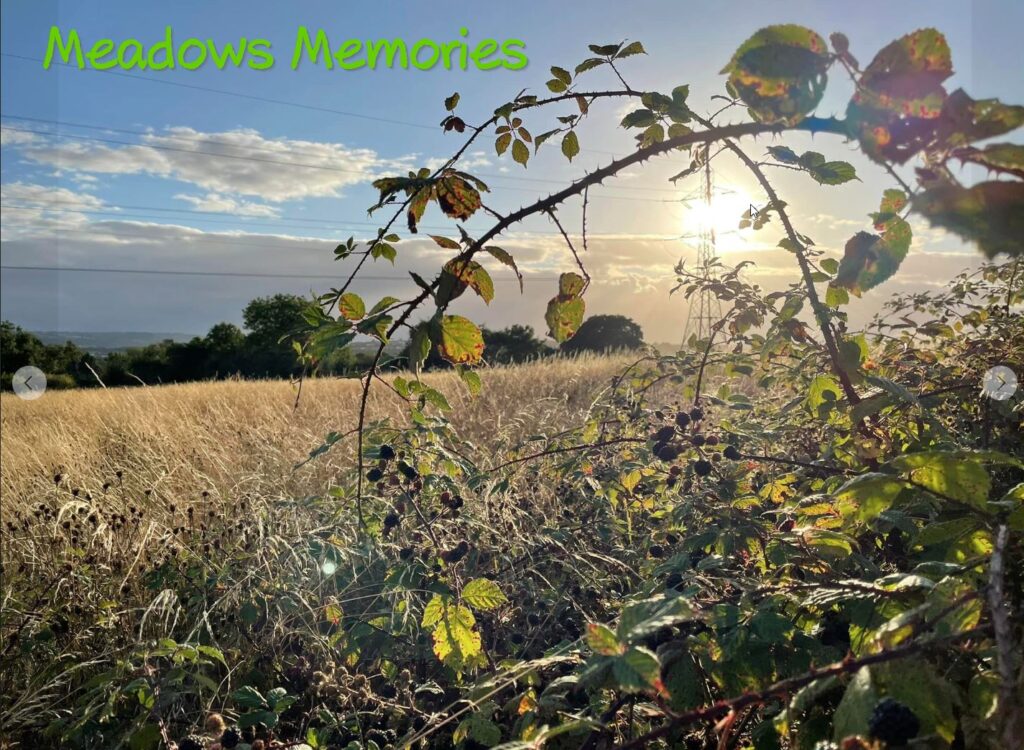 What do the meadows mean to you?
Just a few lines with a timescale would be great, no personal details needed. to share your memories please Email savebrismeadows@gmail.com or post on our Facebook group https://www.facebook.com/groups/brismeadows
you were interested in childhood memories of the meadows . Well I could bore you to tears with stories . As I think I've mentioned i lived in Belroyal Ave for the first 25 yrs of my life so I played in the meadows from a very young age . The meadows were very different then as a lot of the trading estate was yet to be built so they were more expansive .As you accessed the meadows through the top corner of Belroyal the lane led to a stile , to the left of the stile was a continuation of the lane which led to the farm which was run by two sisters Winifred and Margaret Fuller and a farm hand called Arthur ( Auntie Winn , Auntie Margaret and Uncle Arthur ) strange how people close to you were known as Auntie or Uncle . It was a very old farm known as Emerys farm ( i didn't know that at the time ) i later learned . We were sometimes sent there to buy eggs or apples sourced from a small orchard they had by the farm house. An old lady who must have been the mother of Winn and Margaret was often knitting on a verandah at the back of the house . As you went to knock on the door at the front of the house you stepped into a covered courtyard that was all part of the building it was very old . Next to the farm was the C W S sports ground which was where the top of Bonville rd is now that exited on to Broomhill rd the grounds covered quite a large area . As you walked through the field past the C W S ground there was a lane at the far end of the C W S which was corrugated iron sheet one side of the lane ,which obscured the view of the sports field at the entrance to the lane on the sheeting someone had painted the name " lovers lane " and that name stuck. The lane exited on Broomhill rd opposite the start of Ironmould lane which led to Reynolds farm . To the right of lovers lane was an old market garden where Dixon rd is now and there was a Georgian mansion house that was empty where we played and explored . Outside the house were two massive horse chestnuts where we got our conkers . The house was demolished in the 1960's . At the bottom of the field by lovers lane was a pond that was spring fed and we would catch newts in it . I would keep at our house newts and sloworms i caught and would release the sloworms on my dad's allotment . In the meadows were a few massive elm trees which unfortunately were lost later to Dutch elm . A little way from the pond were two old willow trees one of which had a large limb that grew out horizontal . We cut the new shoots for making "French arrows " (other kids from other areas called them Dutch arrows ) . The shoots were very straight and the bark was stripped and the shaft was split for flights , these were fitted and kept in with whipping . A notch was cut just under the flights a knot was put at the end of some strong string and the knot was laid into the notch you held the knot in position wound the string around once and over the knot , kept it tight down the length of the arrow to the point . Excess string length would be needed to wrap around your fingers until you could hold the bottom of the arrow with thumb and forefinger . You would then run and launch it like a javelin they would travel quite a height and fair distance , but finding them after was quite a problem when the grass was long . Me and another mate from Belroyal were on the big willow limb one day cutting shoots and throwing them down when a group of young heffers ( cattle ) came under the limb checking out what we were throwing down . My friend thought it was too good an opportunity to miss and jumped on one of the cattles back and the cow ran off with him riding it until he was thrown off . He thought it was great and I thought he was raving mad . The friends name was Chris Densham he was very well known in Brislington as a local character as he got older but unfortunately died in his early fifties ( no not rodeoing ). I spent a lot of time in the meadows and beyond and got my lifelong interest in nature from being out in the fields . In lovers lane were low growing blackberry hedges where there were always whitethroats nesting, there were linnets , skylark , bullfinch , greenfinch , goldfinch , chaffinch , longtailed tit ,tree creeper in the meadows I can't go through them all there were too many . I would find their nests all on my own after quietly watching or knowing where to look . It was different times and we know you shouldn't disturb animals if you can at all help it .I think some kids were a lot more Huckleberry Finn ish when I was young . We would build dens from the hay bales when it was harvesting time Arthur never seemed to mind as long as they weren't damaged . Once when we were in the meadows a young cow had its muzzle stuck in a large empty can which someone had thrown in a hedge . An r.s.p.c.a. man and a farm hand couldn't get near the cow . Chris Densham said he would do it , to which he was dismissed as a silly kid. He somehow got right upto the calf got his hand around its neck and had the can off in a second much to the disbelief of all watching . He just never seemed to have any fear what so ever . There always seemed an abundance of butterflies in the meadows quite a number of different species . I got quite adept at sneaking up quite near and there were lots of small coppers and common blues on the meadow flowers , in the hedgerows were speckled woods , comma , fritillary ( all very similar and hard to distinguish ) meadow browns , ringlets , painted ladies , peacocks , red admirals , orange tips , brimstones and many more . …. . We used to choose carefully the right shaped "Y" branch of young elm trees ( always elm ) to make catapaults out of and there was a lot of pride in having a perfectly symmetrical piece of elm . It's a wonder no one lost an eye as they could be lethal . CB Allison Rd

We came to Clayfield Road, off the Rock in 1972, and we were thrilled to cross the road and see green fields with cows and horses! We have used the Meadows frequently since then through a series of dogs – the last of which we share with my son who now lives in Knowle, but he walks the current dog in the meadows at least twice a week. We harvest the free food and have made loads of jam from the blackberries and sloe gin from the sloes. I once had a job on the trading estate & used to walk to and fro to work across the fields. We knew the late farmer and would ring him when his stiles were vandalised which happened often. I recall the time when travellers moved in there and the piles of trash they left behind. We have had an allotment on the Park site which abuts the proposed development for many years. I have followed events closely since c2014 (?) when the building suggestion was first mooted, and remember going to a protest meeting in the PiIgrim. We object strongly to the building proposals. We have very little in the area with regards to facilities. We have a library which is about it. It is difficult to get a GP appointment. I imagine the primary schools are full though I don't know much about this as it has been a long time since our children were little. DR Clayfield Rd Resident
I have lived in Broomhill for 30 years & have always enjoyed walking in the meadows. When we first moved here my children were 2 & 5 & we regularly walked through the fields with a bag of carrots to feed the horses in the paddocks next to the allotments followed by a visit to the park and then a return back through the fields home. My children were always amazed how it felt like being in the countryside when we lived in the city. We often paused to watch the wild rabbits and look at the wild flowers and insects. I still enjoy my local walks, the meadows are so important providing a haven for wildlife and a tranquil place to unwind. HR Allison Rd Resident
My earliest memory is taking the route through the fields from my house by broomhill school to belroyal to see my Nan & Grandad. My Granddad would pass chocolate bars to us from the fields when we were at school from the fields! I walked through them often with my family throughout my childhood & played in the bomb craters in the bottom field with my friends. To me they are a massive part of Bris, as I've mentioned I've always known them as 'over the fields' and I now walk my dog here almost daily. They are full of wild birds, I've seen Jays, kestrel, sparrow hawks, aswell as Robins, blackbirds, thrush & magpies. They are a peaceful place to walk. HP Broonhill Reident
I grew up local to the meadows and have been going over the meadows since I was a day or so old. My mum was even walking her dogs over there on the morning of the day that I was born! I have many many memories of the meadows from over the years, me and my sister would go over with my mum to walk our dogs which she did twice a day every day rain or shine – I honestly feel that I have spent most of my life over there! My main memories are whilst my mum and auntie would be walking the dogs, Me, my sister and cousins would be messing around in the mud, making dens, exploring through the bushes, climbing trees (then running away from Wally the farmer when he'd tell us off!), riding our bikes, blackberry picking in the summer along with countless picnics. During the summer months my mum would often take me, my sister and dogs over the meadows after school where we'd have a picnic tea, read books and watch the sunset. I went to Broomhill juniors and me and my friends would always look out for my mum to give her a wave from the playground when she was walking our dogs in the fields. I've recently moved into to my own house locally and I now walk my own dogs over the meadows most days. I work from home a few days a week and the meadows is the perfect local place for me to walk my dogs during my lunch break where I feel safe and comfortable to walk around on my own. My mum who also lives on locally is still walking her dogs over the meadows every day. Although I'm grateful to have some lovely memories, It's awful to think that the meadows could no longer being there for local use and quite scary to think about negative impact that it will have on the local amenities and not forgetting the huge impact on the local residents.
I came to live in Briz in 2008 from Southville. It was a dream come true. To nolonger look out over a road to other identical, though lovely, houses now to wake up and look out at the field opposite my house, hear owls at night and see nature daily. Then I discovered Victory Park at the end of that field then up the slope past kids playground and that first Autumnal unfolding before my eyes of the breathtaking oasis of peace, of the seasons ever changing beauty, of sudden surprises as a fox darts out infront of you or a bird of pray hovers in the skies that are BIG SKIES and the endless view across our city that is 2nd to none. My grandchildrens first visit, 4 and 6 then, as they ran through the grass that was taller than them and their joyous laughter and the image of them running towards me that I SHALL NEVER FORGET, at a time when they needed to experience that joy of being a child andfree. Over their growing years the building of dens, walking our dog, picnics, watching the balloon fiesta, the firworks from on high over the city …PRICELESS
 When the bungalow was built my parents were assured that the land behind the bungalow would not be built on and Mum recounted how calves in the fields immediately behind the bungalow used to eat their way through the surrounding borders into the garden. We went to live with Mum's Dad at the start of the war as he was widowed and ill. They let out the bungalow.  But as he recovered he wanted to marry again and we rented a house in Eastville until 1949 when we moved back to Brislington.  However by that time Belroyal Avenue had been built, much to my mother's distress, because she loved the open fields and somehow the magic of their first home together had been lost. PH

I have been coming to the Meadows with my partner regularly ever since I moved to the area 12 years ago. They are a lifeline…  somewhere I go for daily exercise (walking and running), and a break away from work, as well as enjoying being immersed in a natural environment with all the sites and sounds of nature all around. I often stop to watch the kestrel hovering or flying from tree to tree. I often see and hear woodpeckers, and there are 2 rows of hedges that are often absolutely full of starlings. I love to stop to listen to them chattering and whistling away.
I've lived in brislington all my life played there as a child Walked my dogs there with my young children and there friends It's a lovely relaxing area seeing birds foxes and dear Really helps my depression and anxiety the time I spend there Used to have picnics with my young children and their friends I would be devastated if it went
I've lived on Trelawney Park since 2010 – so certainly not the longest in the village – but long enough to be gradually becoming part of the furniture. The Meadows are a literal lifesaver. During Covid – when all of us were adapting to life more or less indoors all day every day – if it hadn't been for the meadows and that hour of freedom – in nature – I suspect I would have succumbed to depression. Since then, my partner and I walk there nearly every day and it's a crucial piece of green space, natural space, thinking space for us. We have seen flocks of starlings – rarer and rarer now in the British landscape – kestrels, thrush, weasels, foxes and countless small birds – as well millions of insects of course! I'm ashamed to say we didn't know the Meadows well prior to Covid – now we wouldn't be without them. I wish you all the best in your quest to halt the development because the area would not be the same were they to be lost.
GBT on Social Media
Share events and news from GBT