Greater Brislington Together help community groups to Apply for  this funding  in the  2018/19 round we were successful in securing £30,000 for  the Brislington Green Trail
GBT will be hosting two meetings to help make funding application in Brislington East and West
Greater Brislington Together meetings 2022:
Thursday 24  February, 6:30pm to 7:30pm at St Cuthberts in the main church – CIL funding process and priorities meeting
 Saturday 19th  March, 10am to 12pm at St Cuthberts crypt with the Repair Café  – CIL funding process and priorities drop in sessions
Here are timetable and deadlines for the 2022/23 Area Committee decision-making process for decision-making on CIL and Section 106 funding in Bristol
You can access all the information – and signpost people in your community groups – at: https://www.bristol.gov.uk/people-communities/funding-local-projects
The timetable and the Stage 1 Outline Guidance and an Outline Proposal form can be downloaded from the above webpage.
Stage 1: January  to July 2022
January to March:
Local residents and groups can suggest ideas to improve their neighbourhood by
Project ideas should be set out briefly in an Outline Project Proposal form. The guidance and proposal form is below.
All Outline Project Proposals need to be approved in principle by the local ward councillors.
You should send ideas to your councillor and by email to your area committee by mid-March.
Ward councillors will:
make sure the outline proposal forms (stage 1) are completed
ask for more information if required
then confirm their 'in principle' support for the idea and submit it
The target date for outline proposal forms (stage 1) is 4 April 2022.
April to May:
There will be an opportunity for local residents to play a role in prioritising which of the proposed projects should be taken forward in their ward through community events.
The deadline for councillors to sign off  final Stage 1 outline proposals is 31 May 2022.
June:
Councillors in the area committee will meet to:
look at the priority projects
think about how to spread the projects across their area committee area
discuss how much CIL and S106 money they have to allocate
discuss how the projects will improve their communities
agree which ones they want to put forward into Stage 2
agree formal S106 tree decisions in time for winter planting season
Anyone who proposes a project will be told about the area committee's decisions, even if they haven't been successful.
Stage 2: July to November 2022
All projects progressed to Stage 2 will be developed into a full project proposal by the organisations responsible for delivering them.
A full proposal will have information such as how:
much the project will cost
long the work will take
the project meets the CIL and/or S106 criteria
you will show it's worked
it will benefit people from disadvantaged groups
it's responding to a COVID-19 need
Area committee members will then decide if they should approve CIL and S106 funds to a project.
They'll also decide if they want to put any conditions on how the project is delivered, such as getting the organisation to consult with the community on their improvements.
The target date for full proposals is 19 September 2022.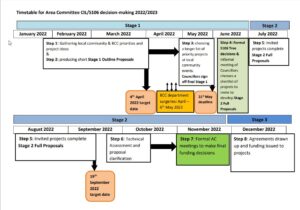 Below is some more info on Cil and the funding process
Community Infrastructure Levy (CIL) and the Section 106 (S106) agreements
As part of the planning  process, a developer often has to give money to the council to pay for improvements in the area that they're developing in. This is usually through a planning charge called the Community Infrastructure Levy (CIL) but is sometimes through a planning obligation called a Section 106 agreement.
80% of the money that's raised is used to pay for city-wide projects improving things like roads and schools.  You can see the city's priorities for use of this funding in the Regulation 123 list.
15% of CIL funds and 33% of some S106 funds are made available for local decision making by councillors.
Bristol Neighbourhood Planning Network have a very good primer on CIL and S106 here
http://www.bristolnpn.net/news-and-reference/a-z-of-topics/section-106-community-infrastructure-levy/
GBT on Social Media
Share events and news from GBT